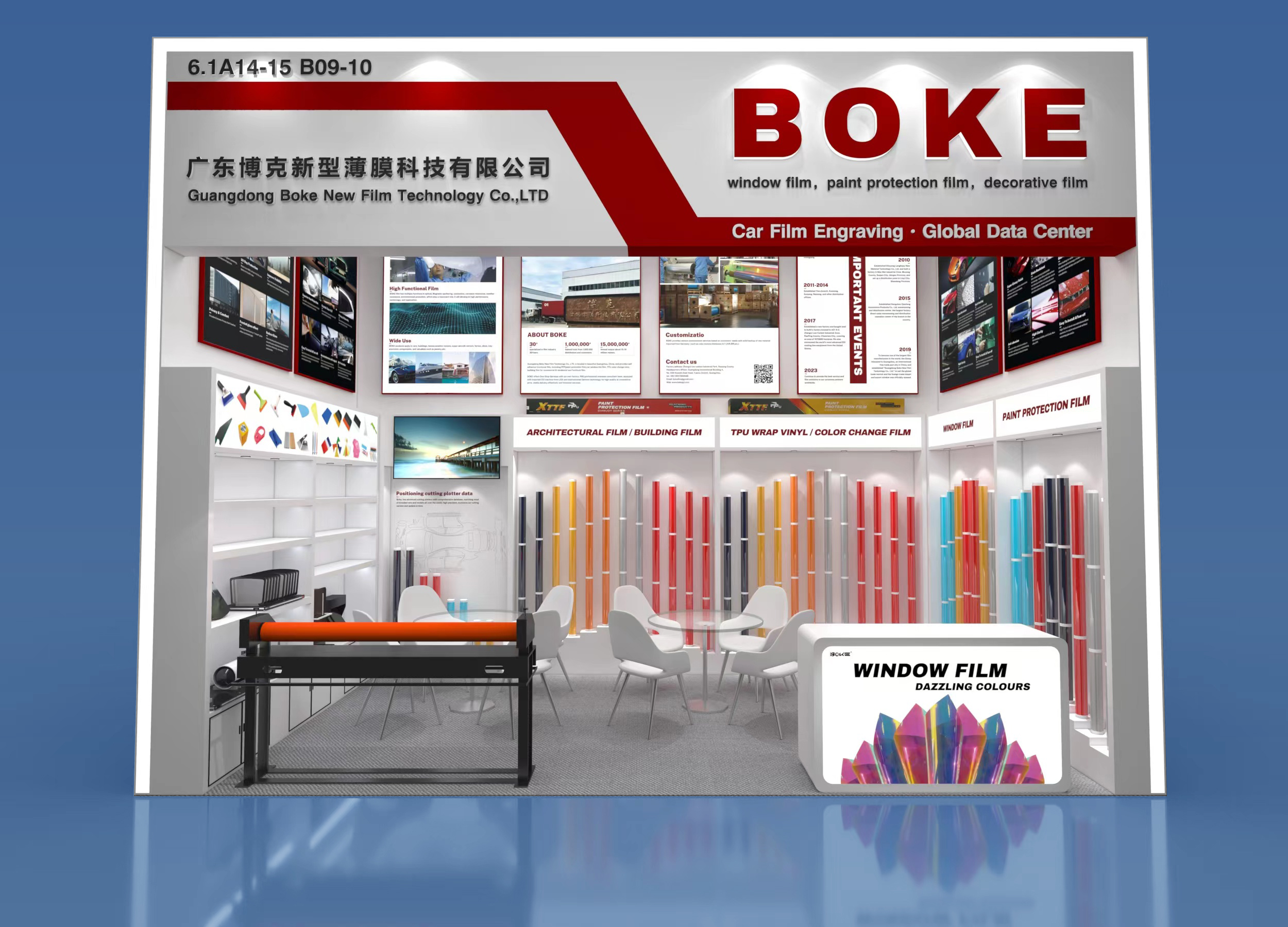 BOKE has always been committed to introducing high-quality and high-performance products, which most consumers love. This time, BOKE is pushing the envelope again and bringing a brand-new product to the general public. This new product will meet everyone at this Canton Fair, which is highly anticipated news.
In this exhibition, we will show our latest products and technologies; this time, the products launched are TPU Color Changing Film and chameleon window film. We will also provide real-time demonstrations and explanations. We are sure you will be delighted with our products as they are strictly tested and quality assured.
In addition to product demonstrations, we will also offer a series of special offers and activities. You will have the opportunity to receive discounts and freebies and learn about our latest promotions.
Not only that, but you can also have an in-depth conversation with our professional sales representatives to learn more about our products and technologies, as well as our service and support system. We will do our best to provide you with the best service and support and help you solve all your questions and problems.
Next, we will briefly introduce our new TPU Color Changing Film.
BOKE's New Product - TPU Color Changing Film
TPU Color Changing Film is a TPU base material film with abundant and various colors to change the whole car or partial appearance by covering and pasting. BOKE's TPU Color Changing Film can effectively prevent cuts, resist yellowing, and repair scratches. TPU Color Changing Film is currently the best material on the market and has the same function as a Paint Protection Film of brightening the color; there is a uniform thickness standard, the ability to prevent cuts and scrapes is greatly improved, the texture of the film is far more than PVC Color Changing Film, almost to achieve 0 orange peel pattern, BOKE's TPU Color Changing Film can protect the car paint and color change at the same time.
As one of the popular methods to change the color of a car, the development of color change film has been a long time, and PVC Color Changing Film still dominates the mainstream market. With the extension of time, wind-blown and sun-dried, the film itself will gradually weaken its quality, with chafing, scratches, orange peel lines, and other problems. The emergence of TPU Color Changing Film can effectively solve the PVC Color Changing Film issues. This is the reason why car owners choose TPU Color Changing Film.
TPU Color Changing Film can change the vehicle's color and painting or decal as you like without hurting the original paint. Compared with complete car painting, TPU Color Changing Film is easy to apply and protects the vehicle's integrity better; the color matching is more independent, and there is no trouble with color differences between the different parts of the same color. BOKE's TPU Color Changing Film can be applied to the whole car. Flexible, durable, crystal clear, corrosion resistant, wear-resistant, scratch resistant, paint protection, has no residual adhesive, easy maintenance, environmental protection, and has multiple color options.









Thank you again for your attention and support, we sincerely invite you to visit our booth and we look forward to seeing you at the exhibition.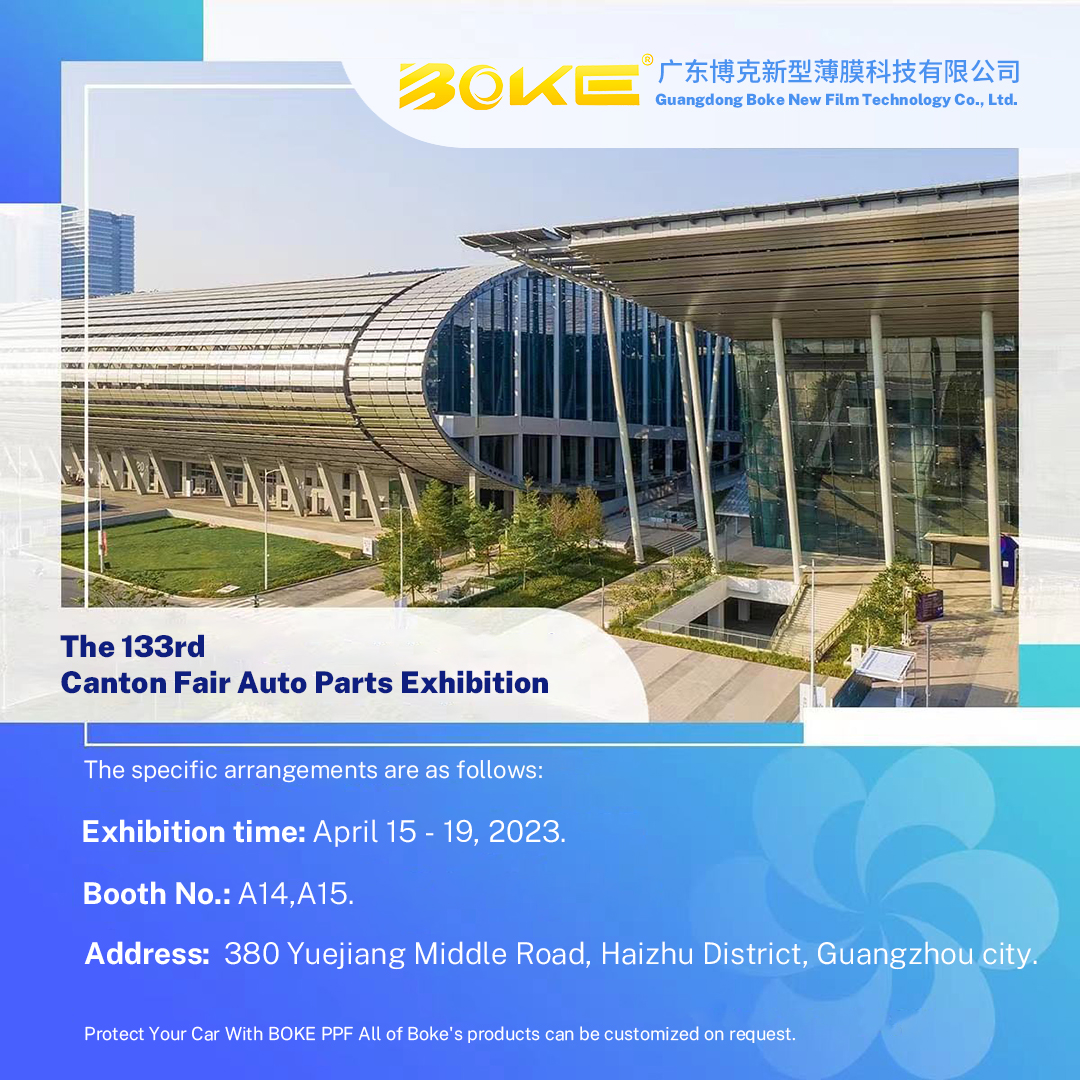 ---
Post time: Apr-12-2023